WOW!
Can I say it again?
WOW!
We put together an email campaign that was sent out on behalf of a client yesterday. The email was introducing a new product into the marketplace – 'the official launch'.
The email went out to their existing customer database, who previously bought products from them and who they have built up a relationship with.
An hour and a half after the email went out, we had recorded a whopping £5,000 worth of sales.
Checking the email and website analytics this morning, less than 24hours after the send, they have had over £10,500 of revenue generated from this one email! Now at the end of the day it's up to £12,000 of revenue!
We can accurately attribute this revenue to this marketing channel because our email marketing programme, BeyondMail, tracks each of the individual subscribers open, click and purchase. If a subscriber therefore opens your email, lands on your website and then buys something in the same session, we can see it all. A session is the period of time when a subscriber, after clicking your email, visits your website before they close their browser window. Knowing that people may click and visit your site, they may come back later to purchase at another time. This is a different session. So with these stats, there is bound to me more sales in addition to this.
It's simple really – Email Marketing Still Works!
Building relationships with people and using a retention based marketing technique like this is an easy sell. Do you consider your current clients and customers as potential customers for new sales? Or do you always focus on getting new clients? It is much easier for someone to make a decison to buy from you if they already know you and trust your service!
If you are interested in having a trackable system that can show you just how much return on investment email marketing can give you, call 01793 238697, tweet us @_toinfinty or visit www.beyondmail.co.uk.
With our BeyondMail system, we offer a personal service from our team of email marketing experts, rather than the faceless support of an online form offered by the giants of the email marketing world. Our prices are as competitive as theirs. Request to see our rate card.
Remember the BIG bonus… you get to speak to 'real' people if you want to – on the phone or in person at our offices in Swindon.
We can get you up and running within 48hours of uploading your email list and campaign. Our mailing tower even negotiates with internet service providers to give more chance of your email not getting blocked by any spam filters.
Call now on 01793 238697 if you want personal human support and advice, trackable live stats, and emails that will get through to your customers.

We have just scheduled an email campaign to go to over 63,000 customers for one client and thought that I would share with you the importance of something we have set up in this campaign – A/B Split Testing.
With all marketing tools it is so important to test the activity that you are doing and then respond to the results in the right way. It it worked, think about doing it again. If you have tried it a number of times and you got nothing from it… re-think what you are doing, or consider it to be a non-effective way of marketing your product AND STOP. Ineffective marketing is just like purring money down the drain.
The very nature of online marketing makes it easier to measure and test any marketing or communications activity. Tools such as Google Analytics help you to see the volume of traffic (the people) coming to your site, where they came from and how long the stayed. Even right through to purchase or showing you the most popular content on your site.
Our BeyondMail email marketing system is another tool that allows you to measure and test the effectiveness of your email marketing.
Not only can you gauge the level traffic that is coming to your site from any email that you may send out, right down to who clicked what and when, it also enables you to test and refine your campaigns to develop them into more profitable ways of marketing online.
A/B split testing essentially measures the results from things such as different subject lines, different email content and also different from addresses. All of these three items will have different impact on the success of your email marketing campaign.
With the client mentioned above, we have scheduled the campaign to send the same content, but to use two different subject lines.
Subject Line A will be sent to 12,000 customers, Subject Line B will be sent to 12,000 customers.
Which ever produces the highest open rate in a 4 hour period will be declared the winner and will then be sent on to the remaining 39,000 customers.
Why do this?
From the initial split test we will see which subject line was more effective in encouraging subscribers to open the email. If one proved more popular than the other, then we would be able to then send the one that worked the best to the remaining list of customers. This will maximise the potential of a greater return for this email campaign.
If you would like more information on how you can also test email marketing campaigns that you may be about to send out – contact toinfinity on 01793 238697 or email us here.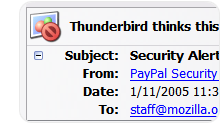 A definition from Wikipedia. Phishing: In the field of computer security, phishing is the criminally fraudulent process of attempting to acquire sensitive information such as usernames, passwords and credit card details by masquerading as a trustworthy entity in an electronic communication.
It now affects your email marketing
In a promising move, some email clients are building phishing detection right into the software itself. I'm sure that like me, most of you have received a few PayPal or the Bank phishing scams in your time.
Phishing scam detection as now been added to both Mozilla Thunderbird and AOL 9.0 – and more to follow I am sure.
This will impact on how you or your marketing agency design your email creative.
So how do they know If you are a phishing scam or not?
The email client you use to read your emails will look for a link in your campaign where the display text is a URL (such as www.toinfinity.co.uk). If the displayed link is different from the actual URL, the user is alerted that it may be a phishing scam.
The problem
Most email marketing software providers change every link in the code of your campaigns so that they can track link clicks for you. This means that even when you have a link like:

It is changed to something like:

This change will mean that your email may get flagged as a phishing scam.
The solution
Avoid using a URL as the display text for a link in any HTML emails. Use a word or phrase which describes the link itself. Such as:


Even though it will be changed by your email marketing provider to look like this:

You won't ever be identified as a potential phishing scammer.
Why is it so important that your orgnisation has a regular newsletter? What is their purpose?
We have listed three main reason for thinking about getting a newsletter up and running – or that old one you used to find the time for, resurrected and started up again.
1. Keep in touch and say hello
Clients, customers, members and other interested parties are the lifeblood any organisation. Now so many are on email. What better way to stay in touch with them than through a perfectly designed and branded newsletter? A newsletter allows you to introduce new products, announce events, offer special discounts and encourage referrals.
2. Attract new customers
Unless people have an immediate need or came to you through a powerful referral, most potential customers won't buy or engage with you right away. Your newsletter can offer people the opportunity to learn more about you, your organisation and your products and services. You can also learn more about them through their behaviour and interaction too.
3. Establish Your Expertise
No one knows more about your business than you do – which makes you an expert. Share your nuggets of knowledge through your newsletter to deepen your relationship with your existing customers and convince potential customers that you are the answer to their problems.
Other points for reference…
What exactly is an electronic newsletter?
Just like their paper counterparts, electronic newsletters deliver written messages to a list of opt-in subscribers. The main difference, electronic newsletters transcend paper to only exist on a computer screens.
Some electronic newsletters are delivered only via email while others are delivered only on the web. Most are delivered in some combination of the two. All of the newsletters delivered through Beyond eMail have a web version that can be automatically published to your website when you send it via email.
Having both the methods available should suit all your target audiences preferences.
How do you publish an electronic newsletter?
Essentially all you need to do is decide on a topic, name your publication and start writing. Blogs can back up your newsletters, or indeed provide content if you choose to use your email newsletter as a round-up or summary of recent posts on your blog. When you have your content sorted, you need is a delivery programme – like Beyond eMail. One that will manage your subscribers for you. One that will provide you with live real-time stats. One that is easy to use – For more info visit www.beyondmail.co.uk.